Stunning Black Stained Concrete Transformations: DIY Customer Projects & Tips
Explore the wonders of black stained concrete through our collection of customer projects, showcasing the transformative effects of our premium stains with before, during, and after photos. Learn from real DIY customers who have successfully used our black concrete stains to craft stylish surfaces in their indoor and outdoor spaces. Get inspired by their tips and tricks to enhance your own space with our outstanding black concrete stain solutions.
By Justin Richardson
Polished Industrial Basement Makeover: Creating a Stylish Work-from-Home Office Space
Dive into this remarkable basement transformation, where a dedicated homeowner turned an unfinished space into a polished, industrial-style work-from-home office.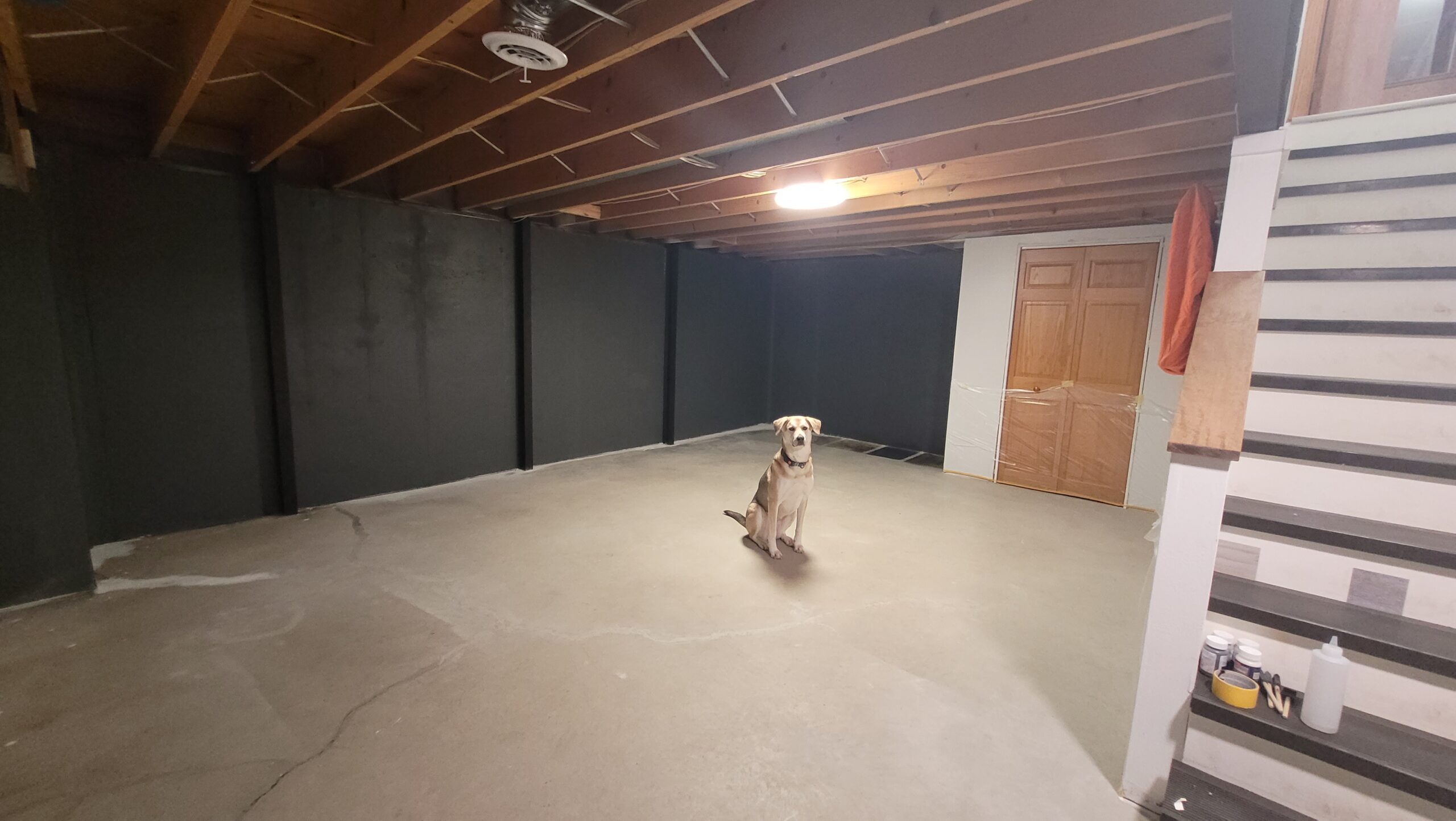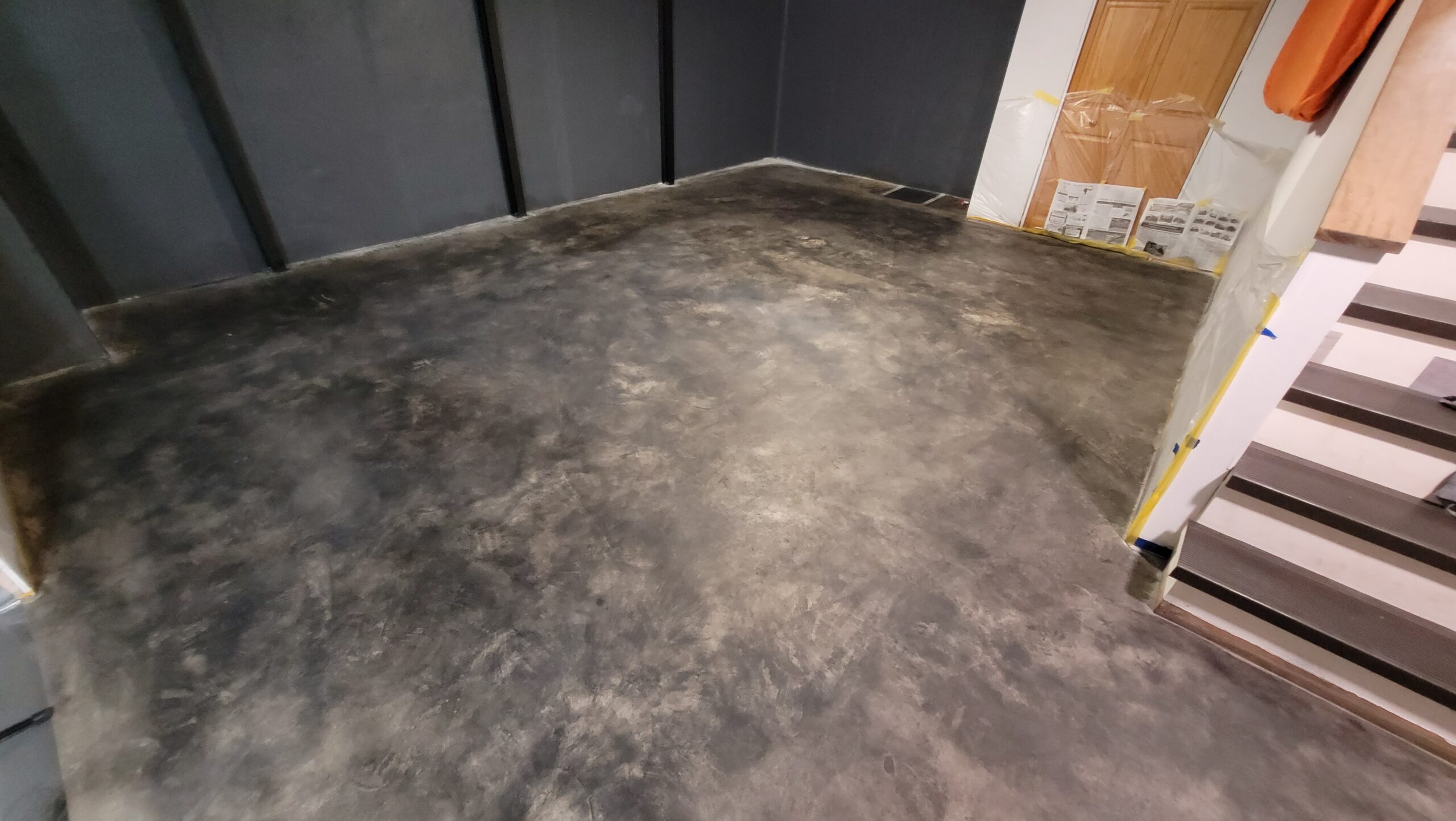 Through meticulous preparation and innovative problem-solving, the homeowner overcame challenges like paint overspray and visible scrub brush strokes from etching. Combining black and silver stain samples with a clever buffing technique using a Bissell SpinWave mop, they achieved a stunning stone-like look with three distinct colors. Explore the highs and lows of this rollercoaster project and learn how to create your own impressive floor makeover.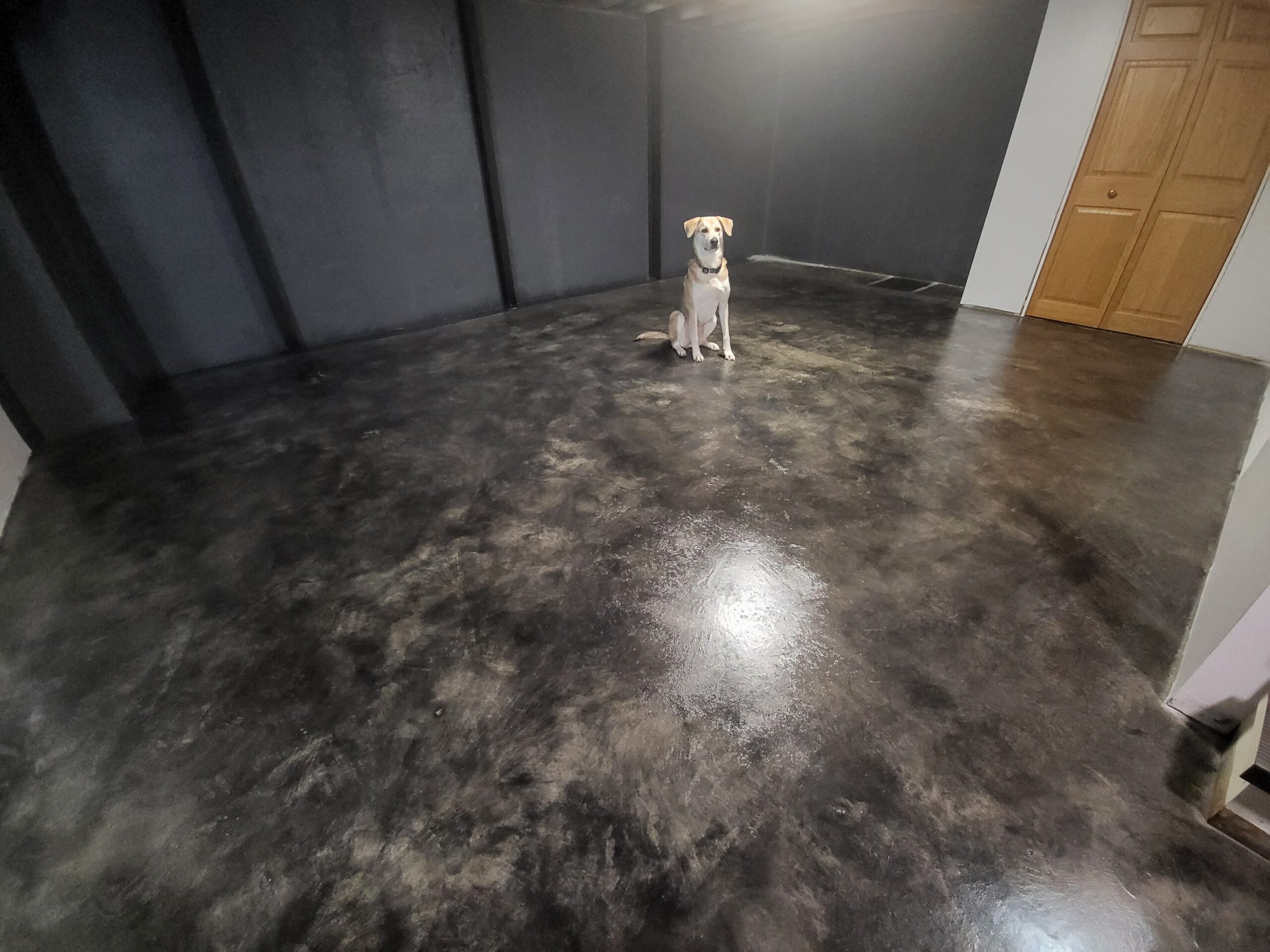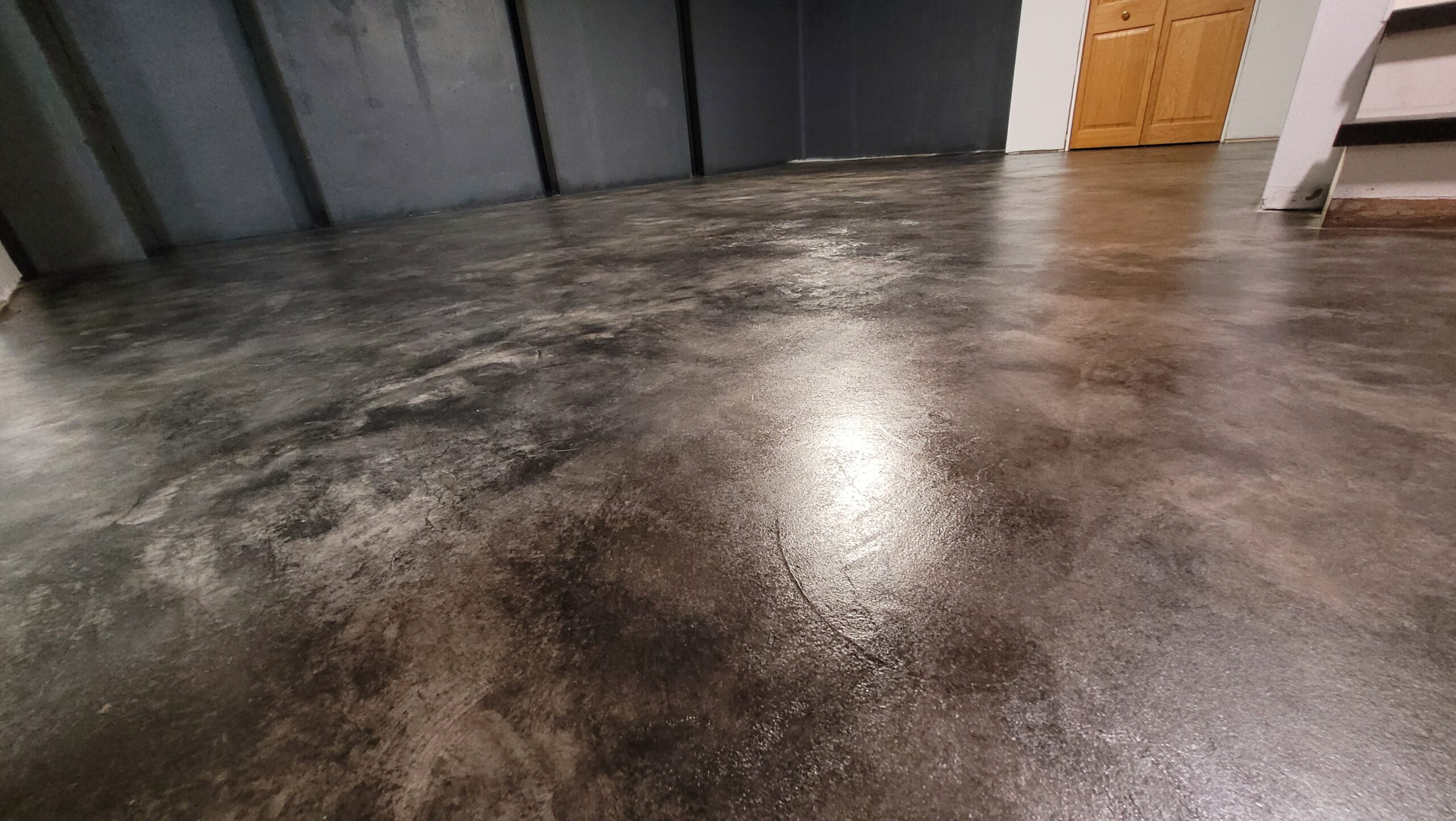 Project Info:
Project Completed In: 4 day(s)
Estimate of Square Footage: 210 sq. ft.
Project Description:
Our project is to make our basement into some usable bonus space. We aren't completely finishing out the space but going for a polished industrial type of look. This space will be a future work from home office space.
Personal Tips:
We had a lot of paint overspray and learned that vinegar works great to pull that up and on stubborn areas my steam shot cleaner worked great. Don't skimp on the prep, it was so much work but definitely necessary.We etched our floors and after the first coat of stain, we could see all of our scrub brush strokes from etching, it looks really bad. When the brush marks didn't dry away we were left to problem-solve. We took out black and silver samples and tried to hide the worst areas. We left that to dry a bit and it didn't look quite right so we actually took our bissell spinwave mop and swirled/buffed the stain. This worked great! It hid the etching marks and made a really nice stone type of look with the three colors. It was a rollar coaster but I love how it turned out.
A Chic Concrete Floor Makeover: Blending Black, Stone Gray, and Iron Gray Stains
Explore another fantastic DIY project in our gallery, where a resourceful homeowner transformed 500 sq ft of stained carpet in their new third-floor condominium into a stunning, chic plaster and concrete floor.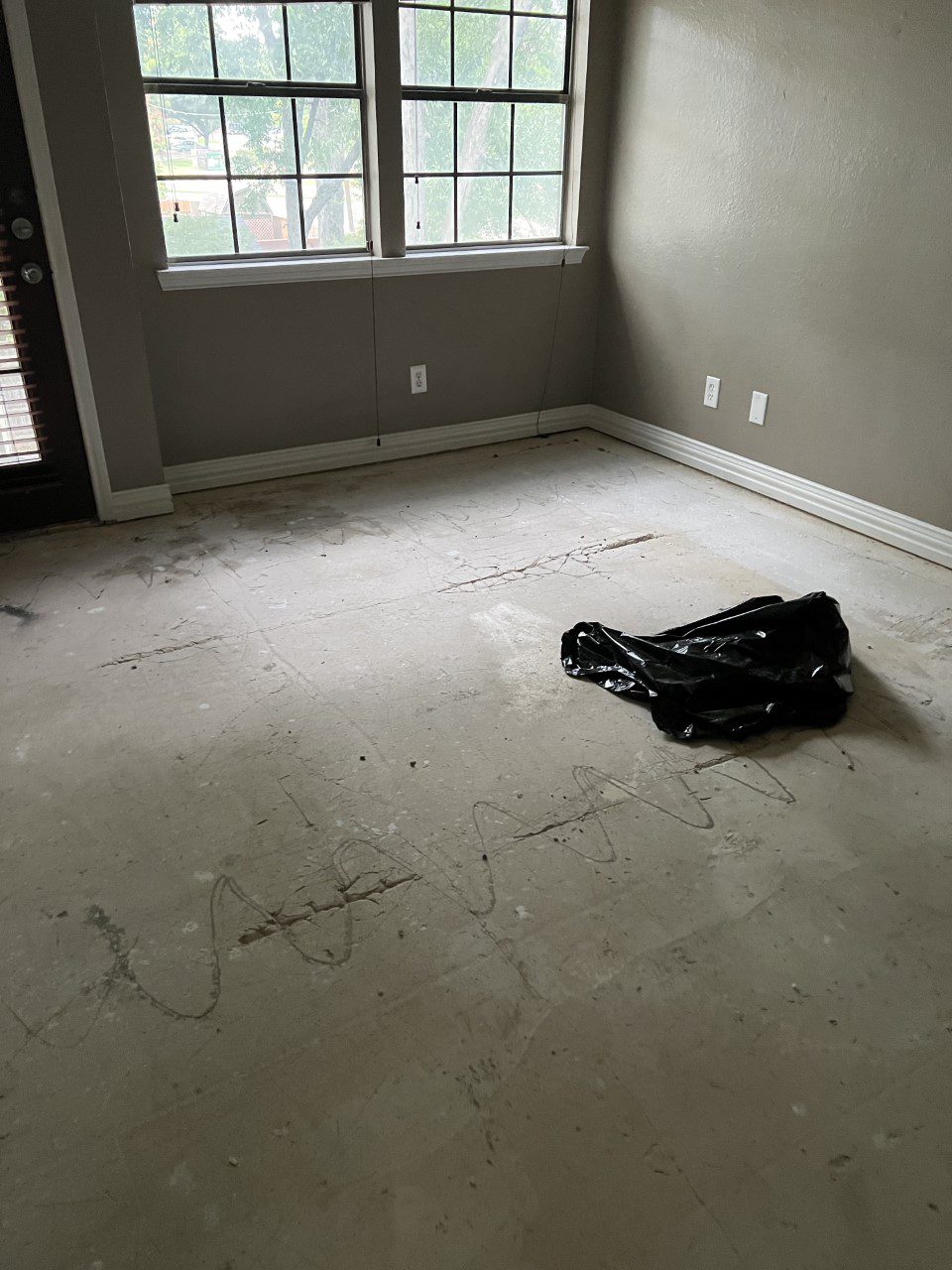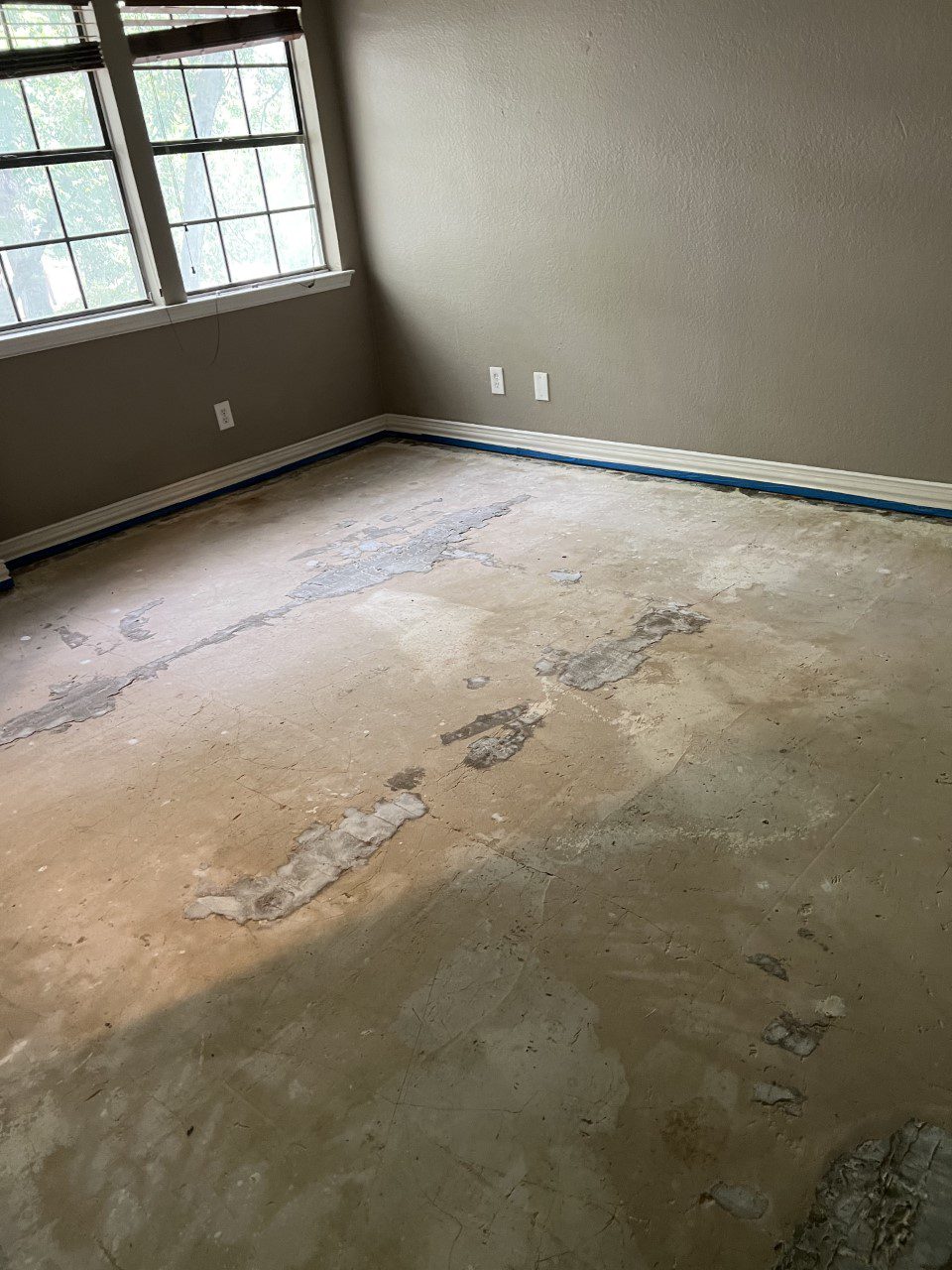 With a tight 12-day timeline, the homeowner skillfully used our ColorWave Stains to create a breathtaking color blend. Combining patching techniques from our website and additional materials from Home Depot, they repaired broken plaster parts, sanded down glue particles and stains, and masterfully layered three different stain colors. Read on to discover their step-by-step journey to create this truly remarkable floor transformation.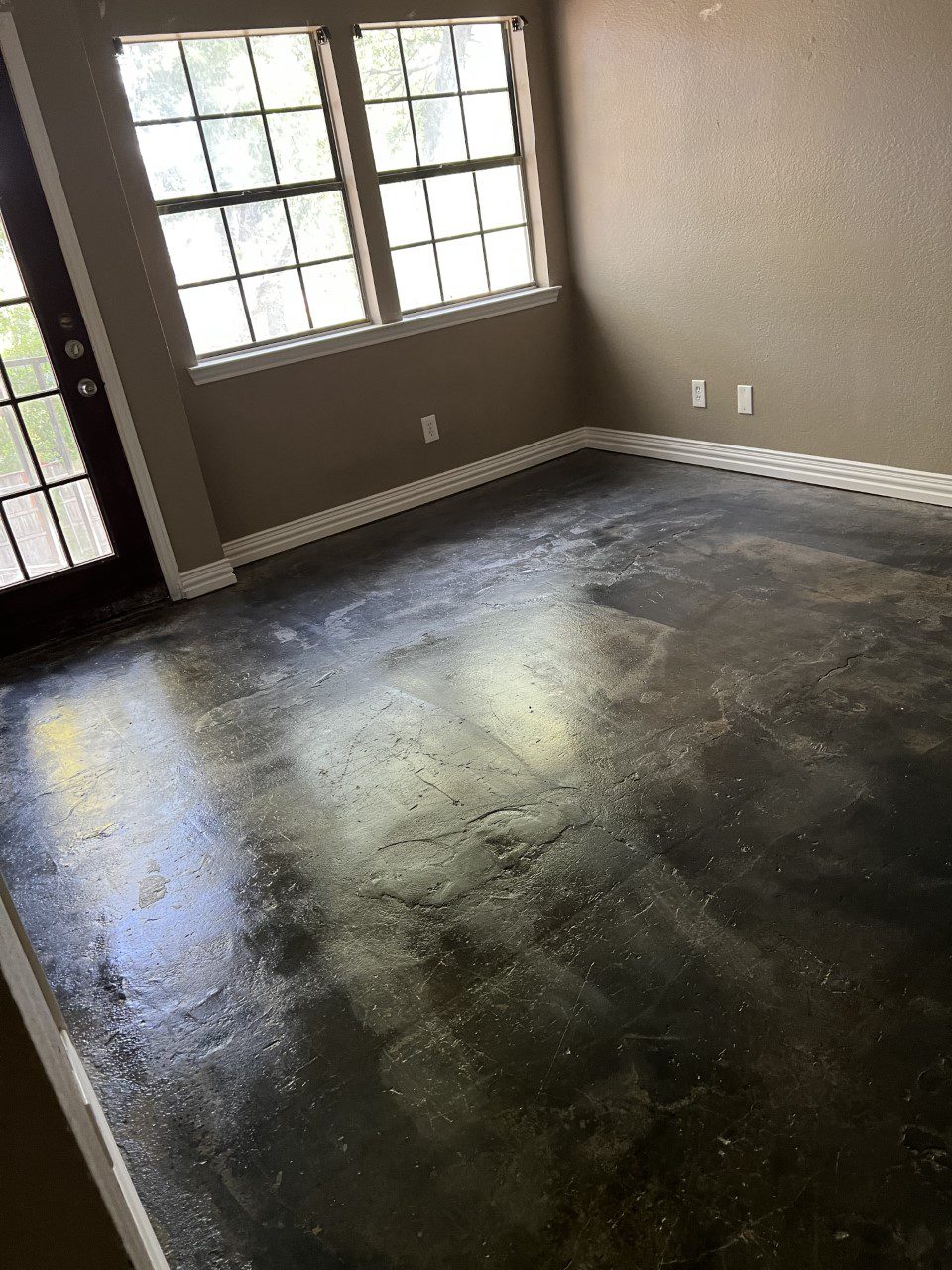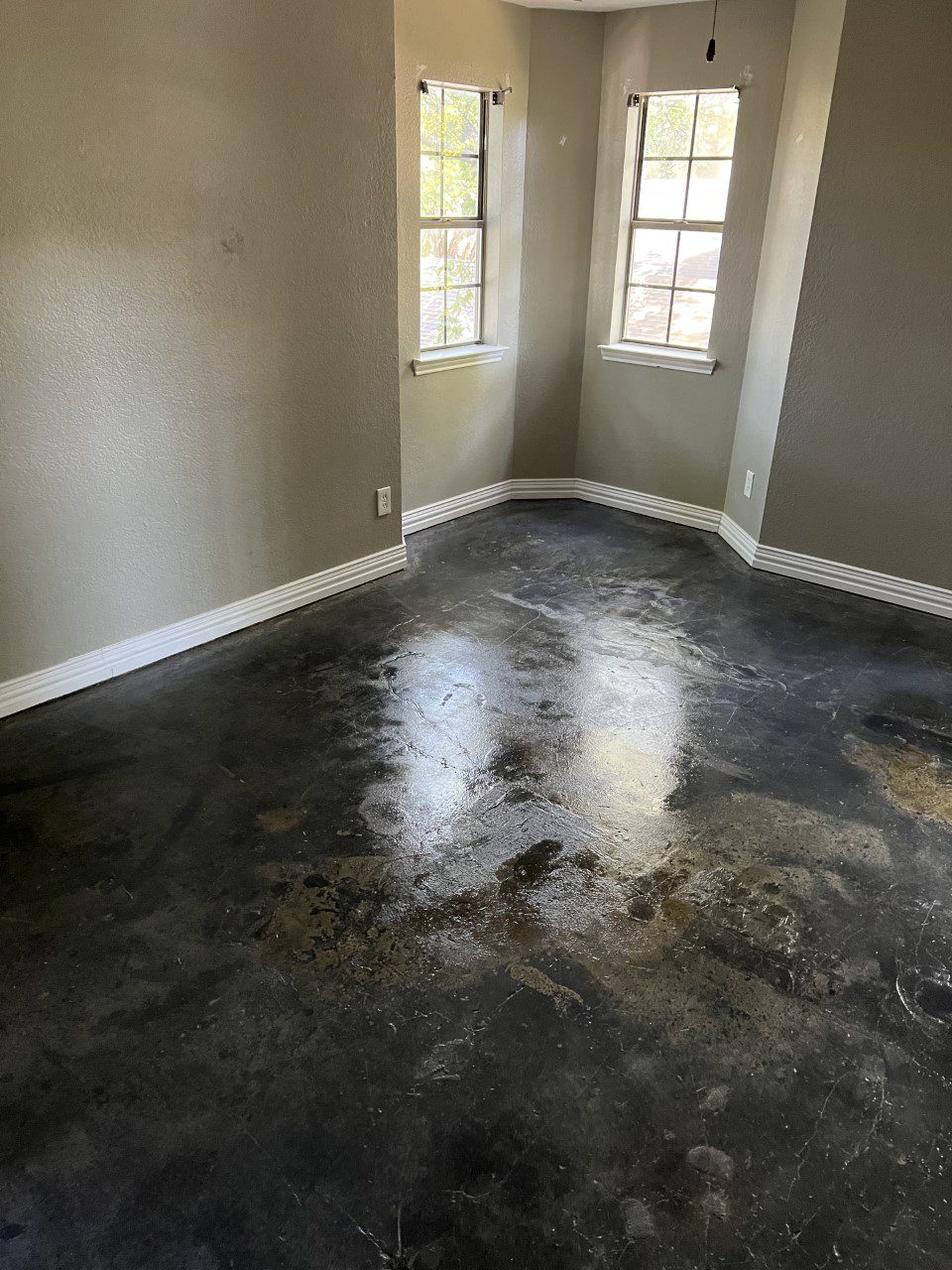 I recently bought a new home (condominium on the third floor) that had some nice but stained carpet in the bedrooms. I wanted to remove the carpet and stain the plaster floor/concrete floor underneath. I was unsure what the materials were other than it was porous so I decided to go with the ColorWave Stain to be safe. I was also on a time limit so I had to have the product ready to go the day I closed, which is the day I began working. It took a total of 12 Days with cure time. The Project size was 500sq feet.
The floors were a combination of plaster and concrete. I had to utilize patching from your website and from Home Depot (rock free quickset concrete all purpose) to fill in broken plaster parts. I removed the small pieces first. I then sanded down glue particles and stains along with the setting concrete. I applied three different colors of stain putting my most favored color first, then a layer of my next color in various spots and then the third in the same way. I topped off with a final coat of my original color and cured this. I repeated the process after the cure.
Some external products were a 12 blade diamond cut 7 inch sander pad and blade (for concrete), Goo Be Gone, and the quick set all purpose concrete (blue label). It is very important to get concrete patch that dries quick and does NOT have little rocks.
Marbled Elegance: Mottled Black Stained Concrete Garage Floor with Concrete Dye
Explore this sophisticated garage floor transformation, where the homeowner used concrete dye to create a stunning mottled black stained concrete finish, resembling a marbled black and white polished surface. With careful application and attention to detail, they turned an ordinary garage floor into a captivating, elegant space.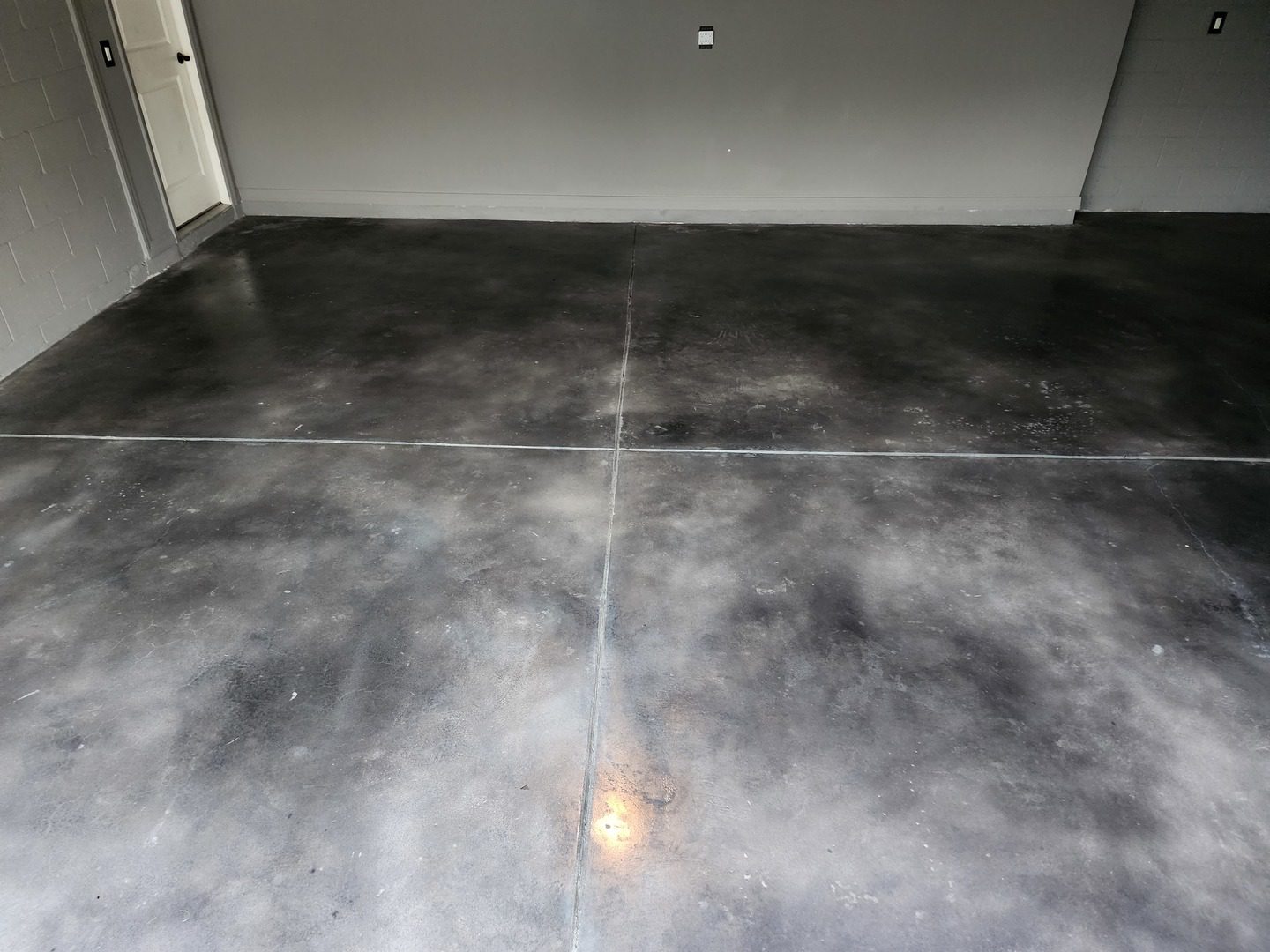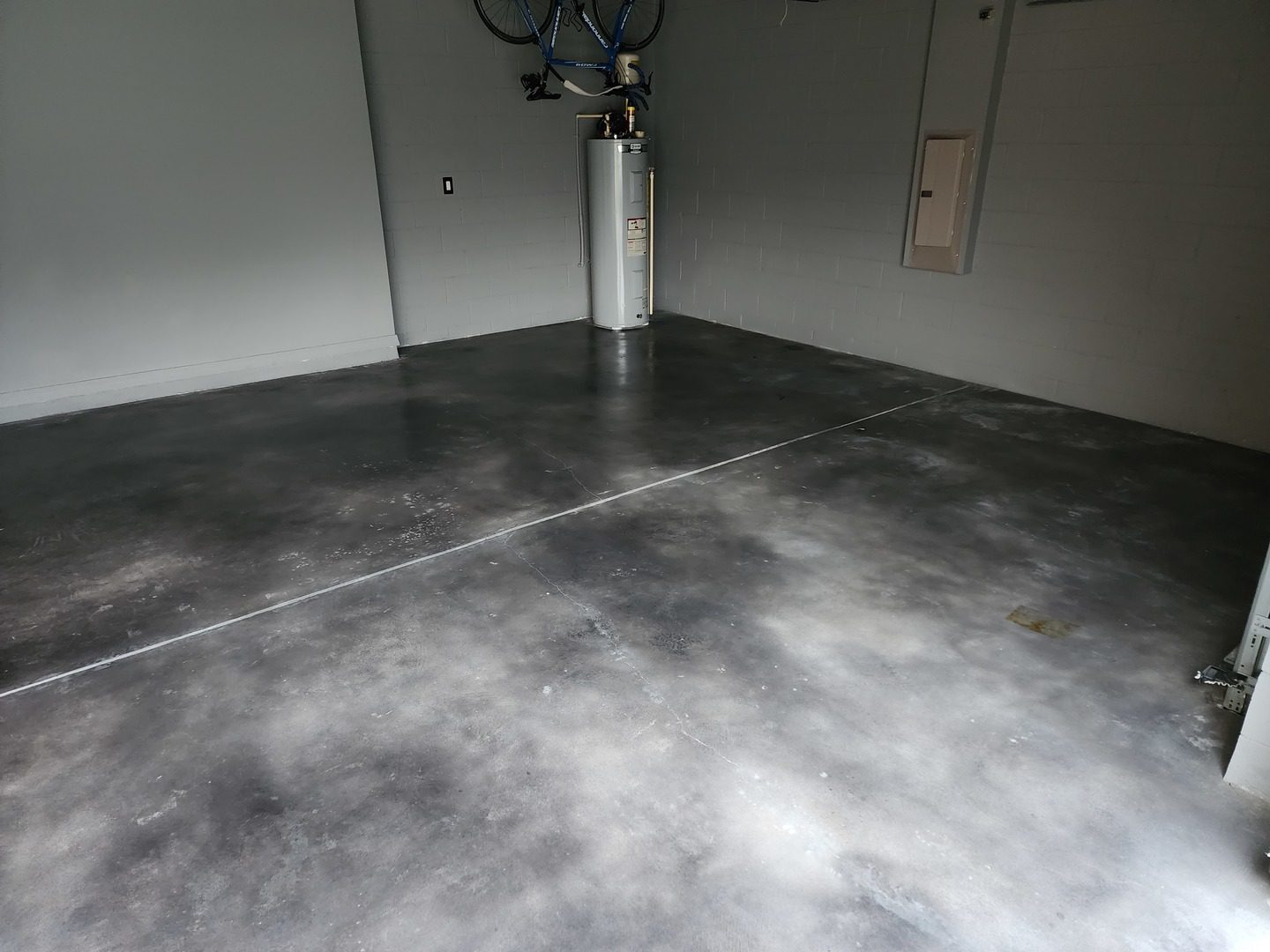 Artistic Elegance: Black Stained Concrete Floor with Hand Troweled Smooth Gray Overlay and Variegated Tinted Sealer Finish
Unveil the beauty of this artistic black stained concrete floor transformation, where William B. Carlisle skillfully combined a hand-troweled smooth gray overlay using a skip trowel/knock down method with an expertly applied black tinted sealer to create a visually stunning finish. The different textures in the overlay allowed for a variegated look, achieved through an artistic spray and roll application of AcquaTint™. Completed with a light coat of AcquaSeal™ gloss sealer, this floor showcases the impressive results of a well-executed, imaginative approach. Delve into the techniques and learn how to create your own masterpiece.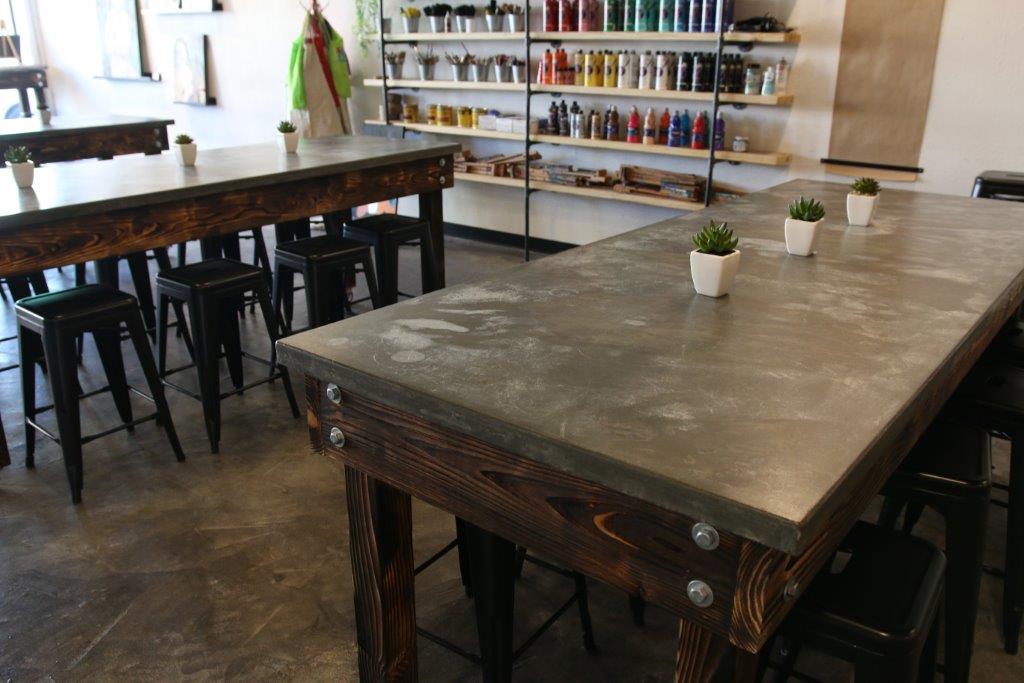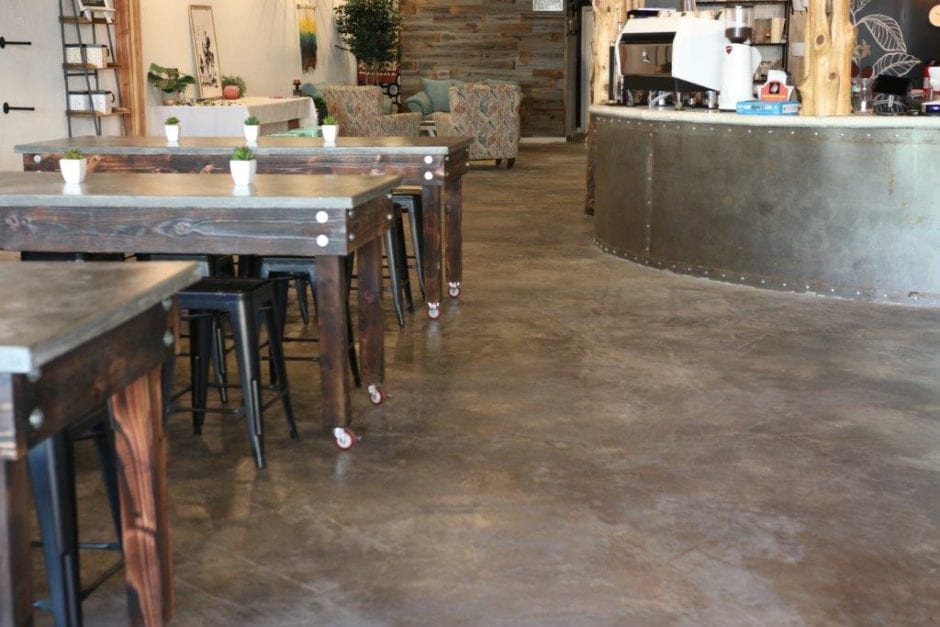 Sunroom Splendor: Marbled Black and White Mottled Stained Concrete Floor with Concrete Dye
killfully used concrete dye to achieve a marbled black and white mottled stained concrete finish. The polished and refined appearance brings a touch of elegance to this bright and inviting space. Discover the techniques and steps used to recreate this stunning marbled effect and elevate your own sunroom with a similarly impressive floor makeover.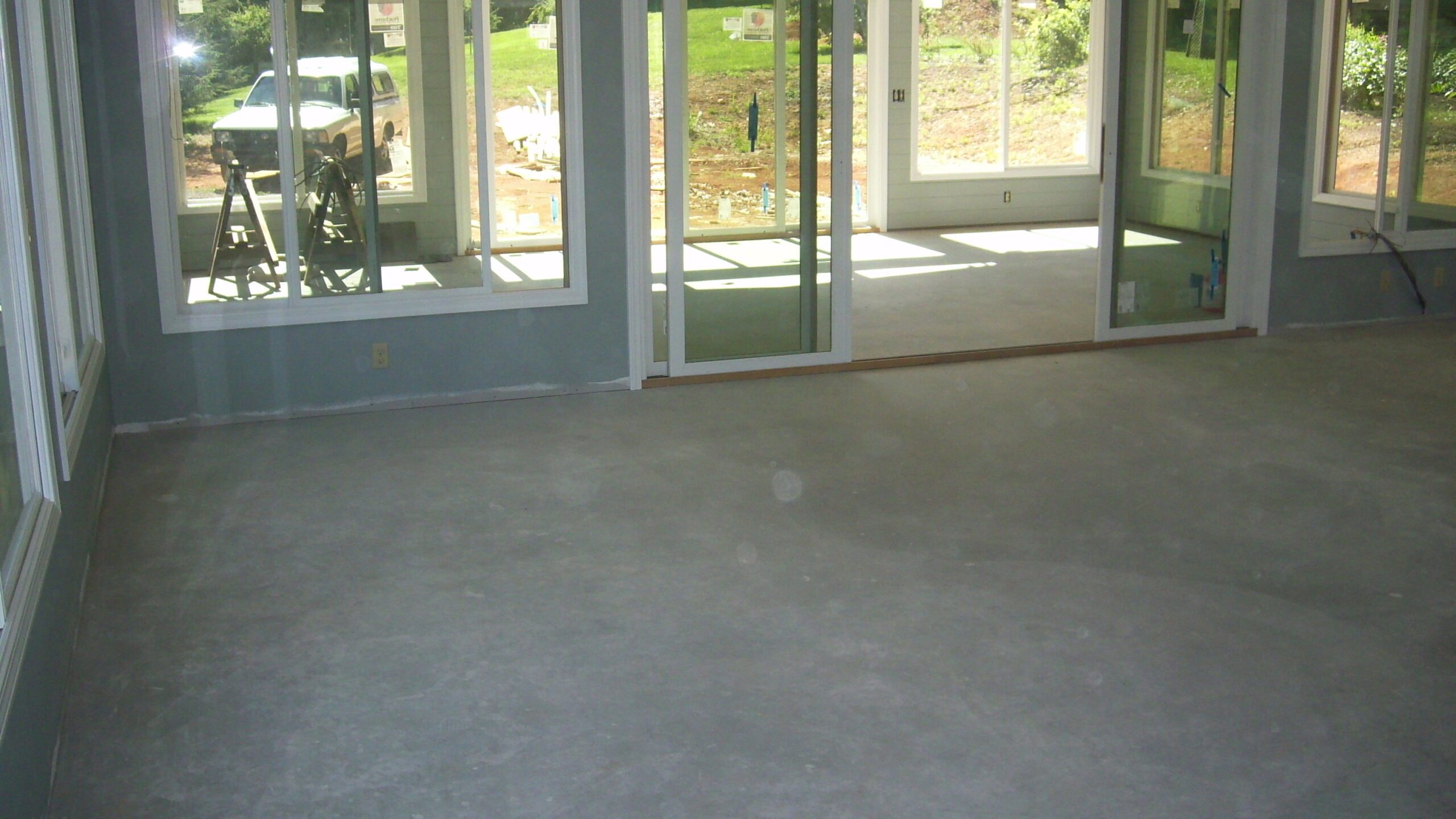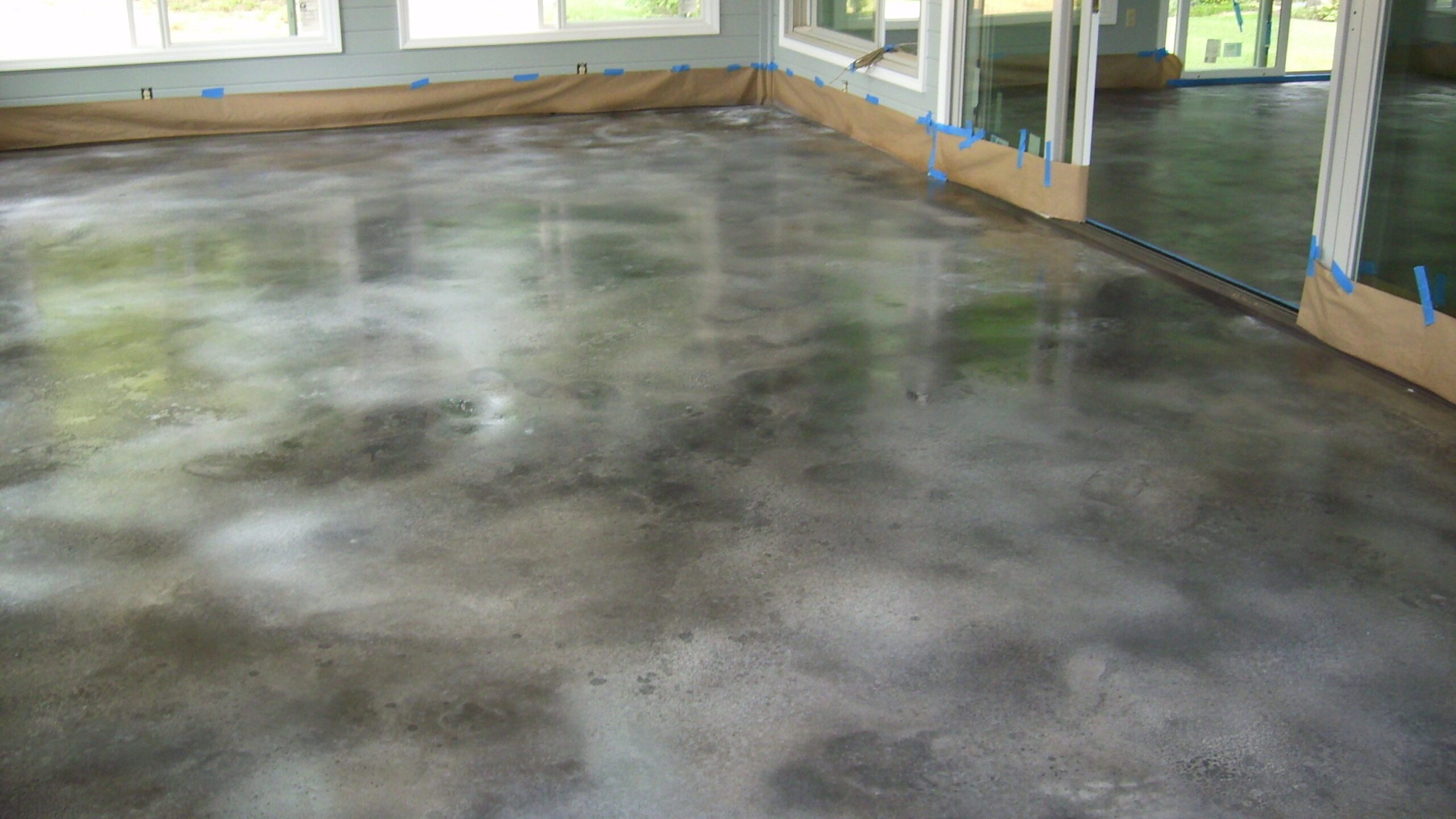 Patio Perfection: Mottled Black Stained Concrete Tiles Created with Scored and Taped Technique
Step outside and admire this stunning covered patio transformation, where a clever homeowner used a scored and taped technique to create the appearance of large concrete tiles stained with a mottled black concrete finish. The result is an eye-catching and inviting outdoor space with a unique, sophisticated touch.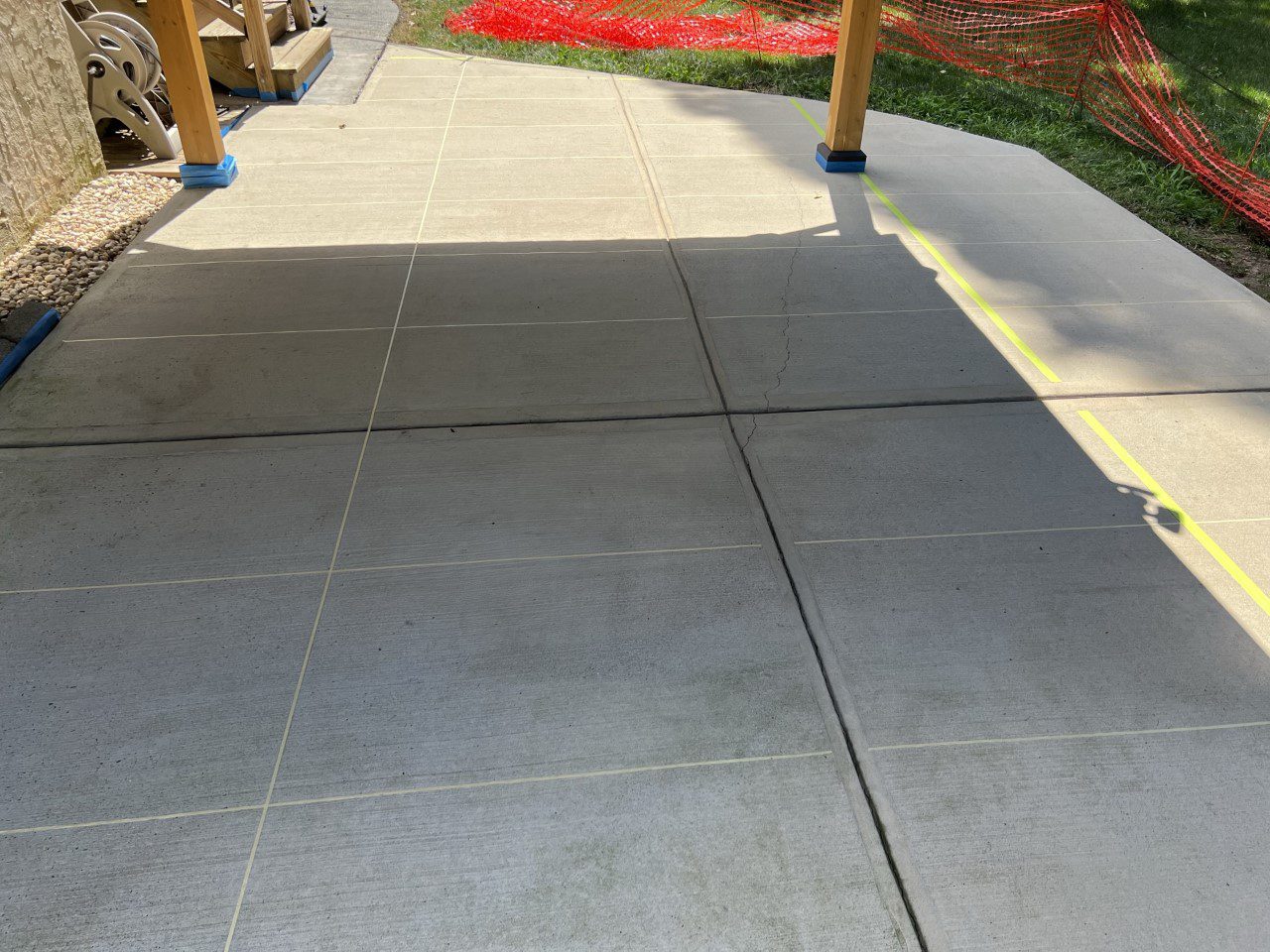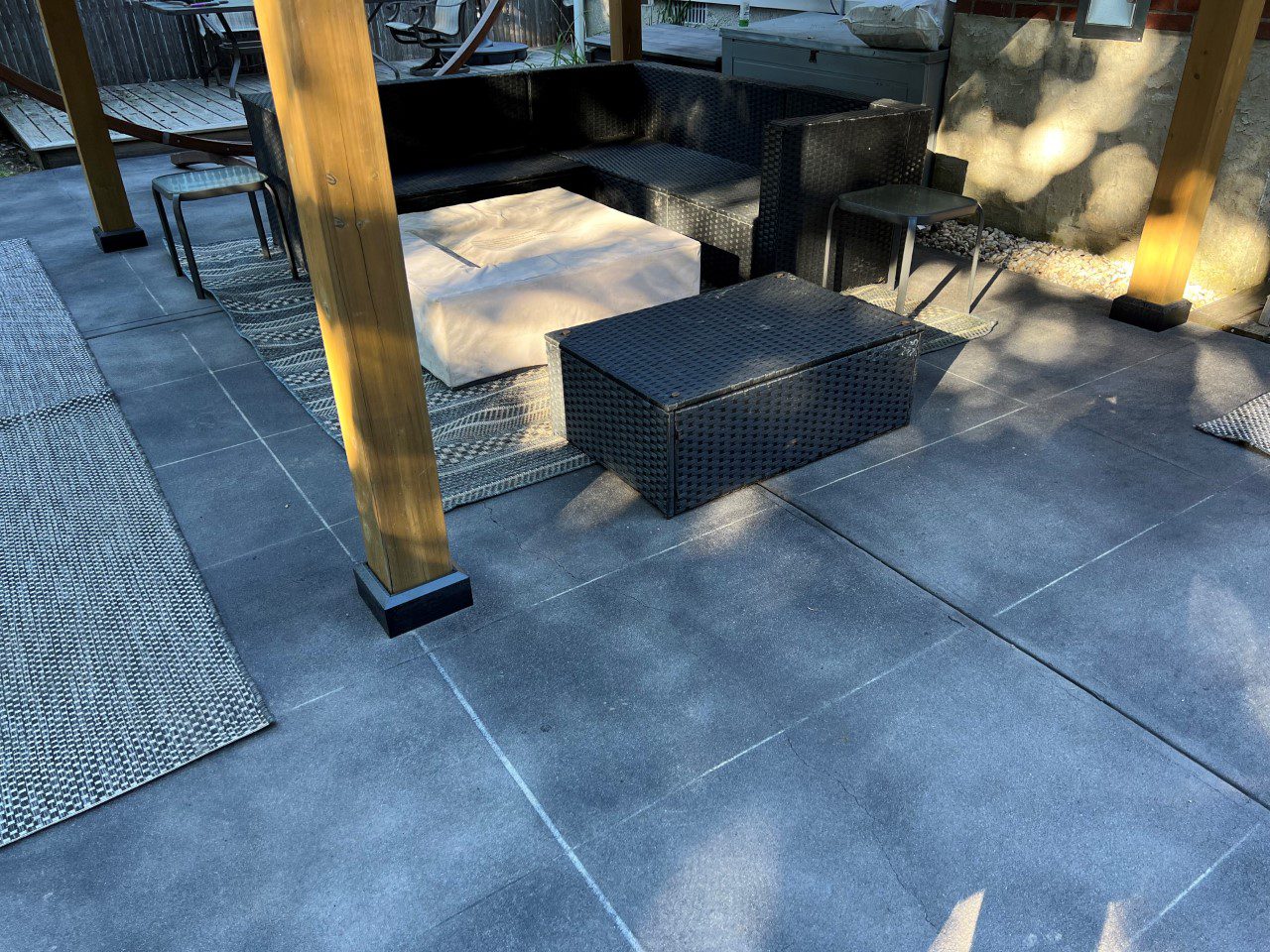 Distinctive Mottled Color Effect: ColorWave Black, Stone Gray, and Iron Gray Stains with Puddling Method
Discover this eye-catching DIY project, where a creative homeowner skillfully achieved a lighter, more distinguishable mottled color effect using ColorWave Black, Stone Gray, and Iron Gray stains. By employing the "puddling method" and finishing with AcquaSeal gloss sealer and two coats of wax, the final result is a uniquely captivating floor design that showcases the individual beauty of each color. Explore the project details and learn how you can create your own distinct floor transformation using these techniques.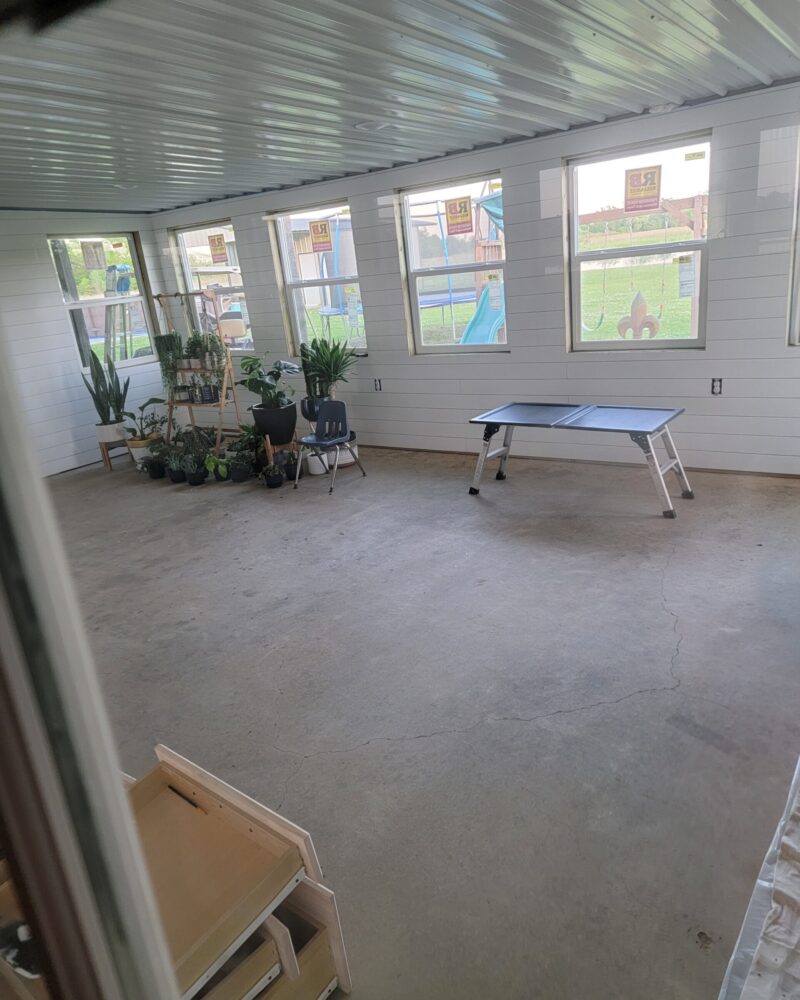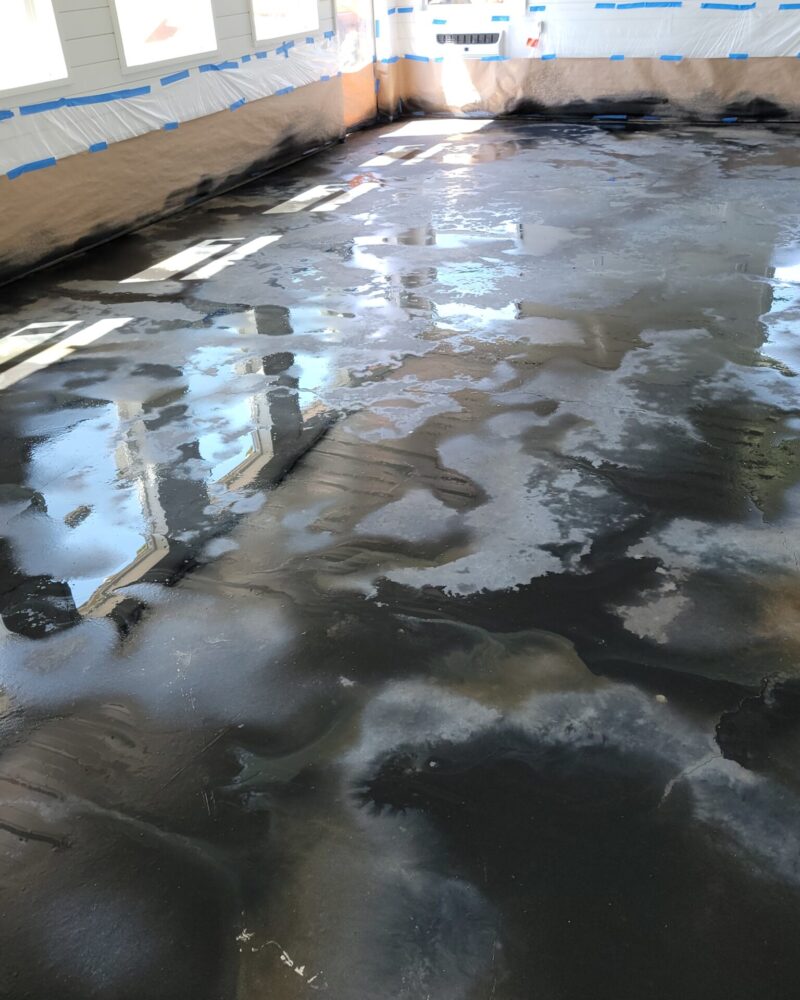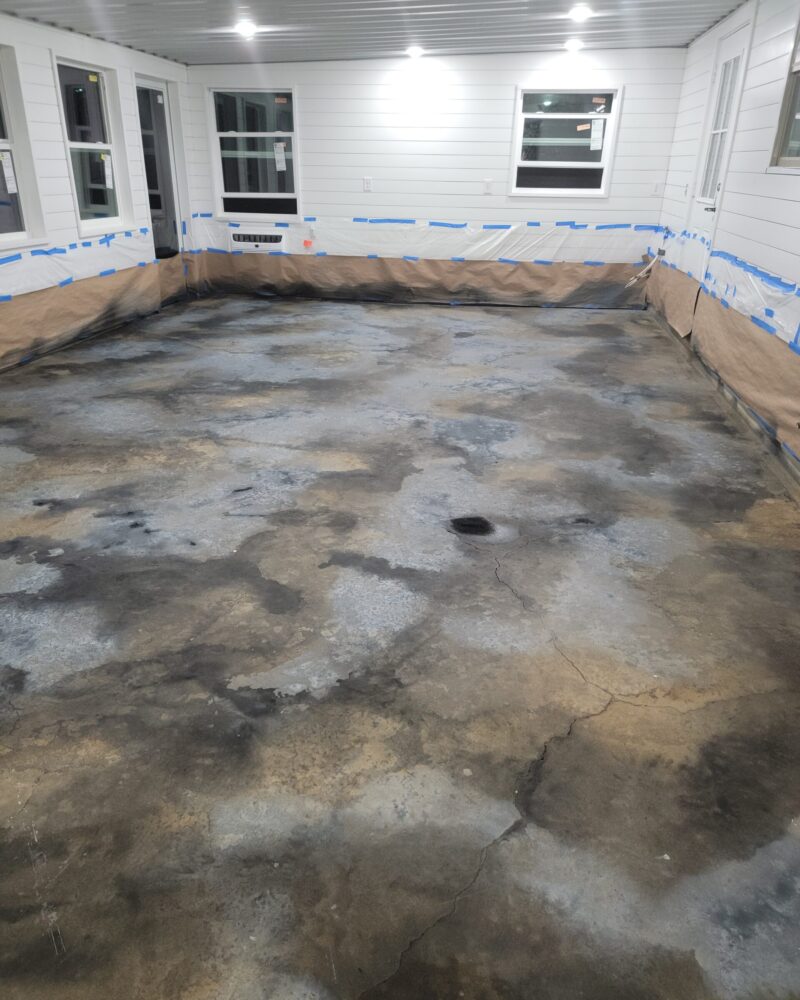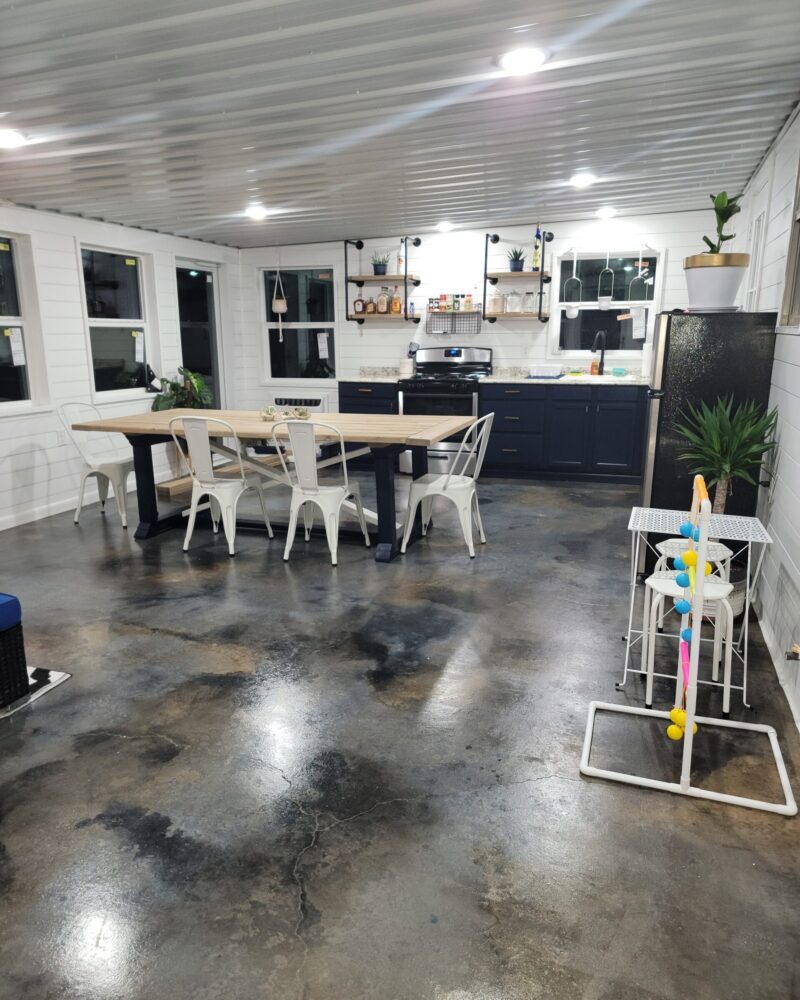 Project Completed In: 3 day(s)
Estimate of Square Footage: 430 sq. ft.
Project Description:
We used Colorwave Black, Stone Gray and Iron gray, used the "puddling method" and finished it off with an AcquaSeal gloss sealer. We also put 2 coats of wax afterwards.
Personal Tips:
Direct Colors Products Used:
Colorwave Black, Stone Gray and Iron Gray stain, Water based high gloss acrylic sealer and floor wax.